For our first concert of 2016, we were lucky enough to get a couple of late-release tickets for Muse Drones Tour 2016, Barclaycard Arena, Birmingham on 2nd April 2016, which was the first night of the UK leg of Muse's Drones tour.
Opening the evening was Nothing But Thieves who done a great job of getting the crowd warmed up and seems like a good band to keep an eye on for the future.
Muse performed in the middle of the arena with on a circular stage, it's hard to describe the experience of the 360 stage and it's immersiveness, and of the use of the amazing flying drones and floating 3d projections. It was a spectacular stage for a spectacular evening of rock. Another thing to note with the position of the stage was the sound was much better than the normal arena set up which was deep and clear which is sometimes muffled and lost.
Another review for the same night I have read said that there was a lack of atmosphere and response from the crowd, maybe he was in a corporate box or something but from where I was sitting I have no idea what he was watching, OK Muse were not into engaging into dialog with the audience but this did not in the least distract from a faultless performance from Muse, in-fills were with musical jams and/or visuals. Likewise the crowd from where I was watching were very responsive and there for a great night of rock. However having said that, it's possible that the best experience in the house was (perhaps for a change) the seated audience who got the full vista of the set as intended to be seen. So my tip if you have not got tickets and would usually get standing – get seated tickets for the best experience of this production!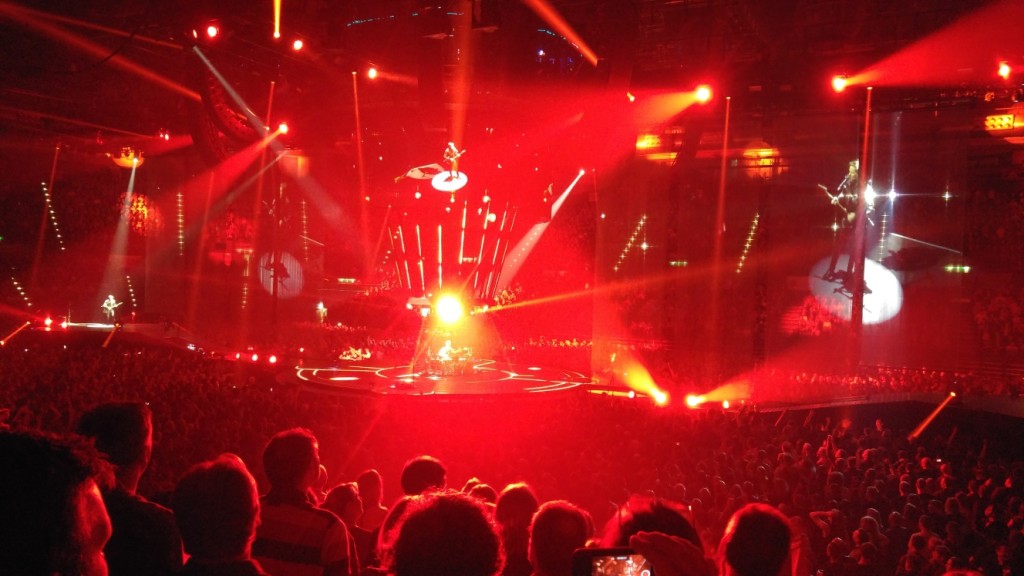 Lead singer Bellamy was always on the move and had a lot to give throughout the night and the jams/improvised bits in-between and end of songs were really great pieces of work!
I'm sure you can find the set-list, but the stand-out performances of the night was Psycho and Reaper at the very beginning with The Resistance and The 2nd Law somewhere in the middle and toward the end of the evening Mercy and Knights of Cydonia closing the show. However, for me all the songs played had their place in the evening and were performed with style.
I think long-standing fans will have been satisfied and new fans of Muse will have been made on this night.